Outdoor furniture can be an investment so you have to think about how to expand its lifetime so that you can take more use out of them. Outdoor furniture tends to be epode to the elements and this will have an effect on the furniture.
Because outdoor furniture is exposed to sunlight, moisture, temperature and humidity changes etc.
they should be made from high quality materials so that they can withstand these conditions. Some durable materials you can look for are stainless steel, aluminium, cedar, teak and all-weather wicker. When it comes to cushions, look for fabrics that are water resistant. You can compare the pros and cons of different materials available for outdoor furniture in the JND Blog. There will be a lot of dirt and grime accumulating on the furniture with time so you have to clean it regularly. You can use a soft brush or cloth to wipe the surfaces clean. A mild detergent can be used depending on the material you have for the furniture. This will also prevent mould from growing on the furniture. Dirt can accumulate in crevices so you need to pay careful attention to this. You can also look for furniture that is easy to clean when you are purchasing them. Simpler designs tend to be easier to clean and there are fewer crevices for dirt to get collected in.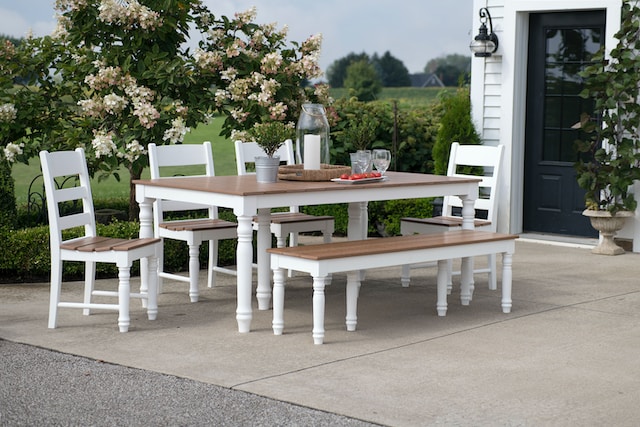 You may not be able to use the outdoor furniture all year round if you live in an area with seasons.
For example, you will not be able to use the space in winter. You can store the outdoor furniture in off-season so they are protected against the brunt of harsh weather. Look for a dry storage area to keep the furniture. In this aspect, look for furniture that can easily be stacked up or folded so that they take up less storage space. Furniture covers are also a great way to protect furniture. This will be an extra layer of defence against UV radiation, snow and rain. You need to have the covers secured tightly so that they don't blow away when there is high wind.
There are many protective finishes that can be applied to the furniture.
For example, you can use a sealant or waterproofing product on wooden furniture to prevent moisture from being absorbed into the material. You can paint metal furniture or have a rust resistant finish on it so that corrosion can be prevented. When you are cleaning the furniture, you can take this as an opportunity to inspect them for any damage or signs of wear. Check if there are cracks or loose screws. You can easily address these issues quickly so that it doesn't lead to more issues later on. You have to be careful when handling the furniture as well. You should not be dragging it across the floor when you are moving it as it can damage the joints and the legs. You need to be gentle when moving furniture and use them carefully so that unnecessary damage can be prevented. Furniture pads can be used to protect the furniture from scratches. You can place rubber pads under the legs of furniture so that they don't damage the patio or deck.